Smart Production Edge Control Demonstration Platform (SPEC-DP) Series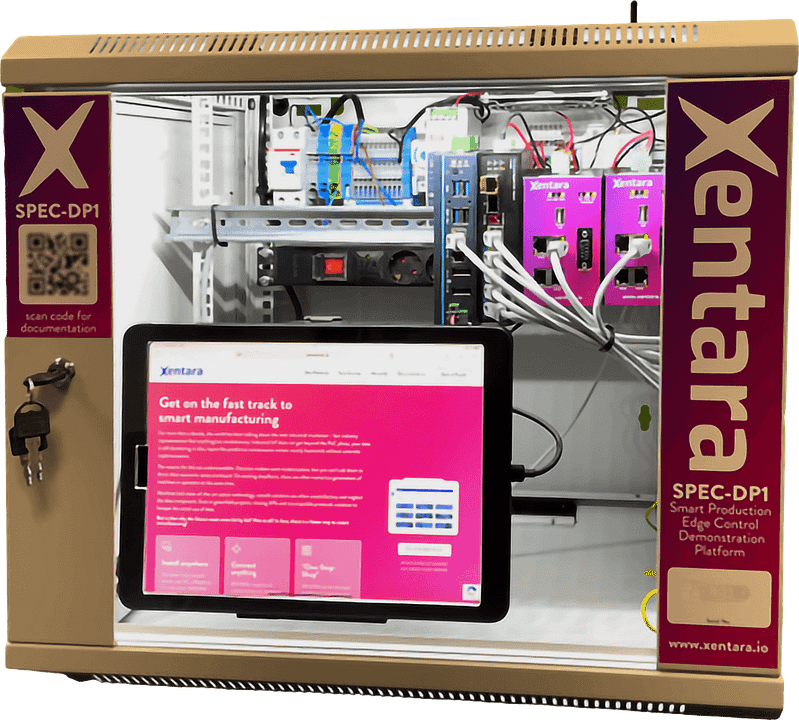 The Smart Production Edge Control Demonstration Platform (SPEC-DP) product line is a series of easily deployable smart edge control and computing systems designed by embedded ocean GmbH. It is an ideal testbed for quickly and easily demonstrating and evaluating the advantages of digitalizing and empowering production systems through fast data analysis, local machine learning and on-premise cloud applications.
Available for purchase or lease,  SPEC-DP devices are the perfect entry to smart analytics in a brownfield environment, allowing you to kickstart your journey to Smart Industry and start creating meaningful business impact in less than a week.
Start your journey to Smart Industry now.
No Machine Change Necessary
The SPEC Demonstration Platform is a stand-alone device that plugs into your existing machines and collects data without influencing the existing controls. Sensitive timings are not disturbed by additional latencies.
Using a SPEC-DP device allows you to get a taste of the possibilities of Industry 4.0 without changing the tools you are using.
Generate Actionable Insights
SPEC-DP devices can acquire data from your machine controls and sensors and deliver meaningful analytics in real-time.
Keep an eye on trends, explore historical data, identify anomalies immediately as they happen, and access OEE (Overall Equipment Effectiveness) calculations, ANDON status and other information at a glance.
Get Smart in Just Three Days
SPEC-DP class devices can connect to almost any industrial communication bus you use and start acquiring data immediately after initial setup.
That makes deployment fast and easy, taking you from plugging in to generating valuable insights within just three business days.
It truly is the Fast Track to Smart Industry.
Keep in mind SPEC-DP class devices are demonstration platforms. Once you have experienced firsthand the value you can generate from machine data, we advise you to switch to a permanent Xentara based solution that can be rolled out across the entire shopfloor.
SPEC-DP1 Basic Configuration
SPEC-DP1 is the base model of the SPEC-DP line. It comes equipped with a Xentara enabled Edge device for collecting and collating information from various sources as well as InfluxDB and Grafana Skills for on-premise or cloud based analytics. It is equipped with various I/O and the ability to monitor Profibus traffic. It is easily deployable in brownfield installations to analyze production and quality data.
The SPEC-DP1 delivery scope includes a tablet for system configuration, data access or visualization purposes. Complete system functionality and configurability is also remotely available from your network.
Customer and project specific variants are based on the SPEC-DP1 model and configured individually.
Steel Chassis w. Safety Glass Front Door
5% to 95% (not condensing)
This Demonstration Platform is not suitable for placing on the market. It is released exclusively for demonstration and evaluation purposes. This unit has not been approved for permanent use and / or deployment in a productive environment. It should only be operated by qualified personnel.
MTBF: not rated